Personal Home Page of Edwin B. Dean

Welcome to my Aquarian visual analytic INTP world.

As of 3 January 1999, I am retired from NASA so that I can devote more time to the thoughts expressed in this web site and to their implementation.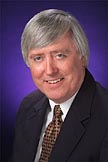 Bibliography
Kroeger, O. and J. M. Thuesen (1992). Type Talk at Work, Delacorte Press, New York NY.
The American AstroAnalysts Institute, Aquarius, Charter Books, New York NY.

To Design for Competitive Advantage | Table of Contents | Use

Originated on 941216 | Improved on 981215
Curator Paul Scarbrough